Seasonal rental in Vendée, Pays de la Loire
Delirious Labyrinth
The Labyrinth, which is renewed each year with a new theme, has chosen "Adventure Across the Oceans" for 2020.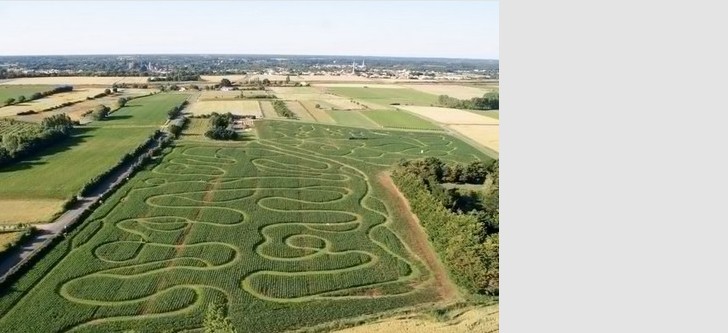 The 8 hectare leisure park has two giant labyrinths.
• Discover nature in the pedestrian labyrinth, spiced with 26 educational, fun and sporting enigma games, accessible to all ages (from 3 years), 1 adult level and 1 child level side by side, as well as a rebus, on the theme of the year. Course lasting from 1.5 hours to 2 hours at your convenience via a map.
• Play the pedalboard in the bicycle labyrinth with its 2 tracks, the green one: enigmatic, accessible to all, and for athletes, the red track with bridges, bumps, slaloms ... without forgetting the dynamics of rabbit hunting!
Course lasting 30 minutes, at will! You can bring your bikes or rent one on site.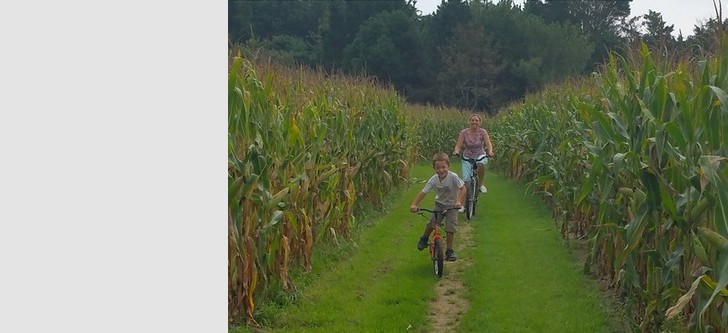 • Rest on the relaxation area, a shaded picnic area with a seating capacity of 150 seats (picnic table or deckchair) surrounded on each side, a giant playground (games in old-fashioned wood, table tennis table, football delirium area, trampoline, skill games, volleyball, badminton….).
• Every Thursday a CRAZY EVENING !!!
A NIGHT on Thursdays hosted by the association "Les Fous du labyrinthe"
GUARDED FRIDERS AND LAUGHTERS !!!!
Night-time prohibited for children under 5
Not recommended for people under 10 years
No night allowed for dogs
Last entry 10:30 p.m.

USEFUL INFORMATION
Telefone
+33 (0) 6 14 12 74 33
Address
rue du Port de la Guittière at 85440 Talmont Saint Hilaire
Hours and prices
from 27/6 to 30/8 every day from 10:00 to 22:00, Saturday opening at 14:00
More info on www.labyrinthe-en delire.com
Good plans
Arrive at opening (10:00) to be able to spend a day on site
Free shaded picnic areas ((Don't hesitate to bring your picnic friends!)
A fast food point: sandwiches, salad, Sodebo pasta, Miko ice cream, sodas, Albert coffees.
Present your valid sealed membership card to benefit from our preferential conditions
More info on www.labyrinthe-en delire.com
SHORTCUT TO THE"LABYRINTHES EN DÉLIRE"& FACEBOOK WEBSITE
NB : The photos illustrating this page are published with the kind authorization of "Labyrinthe en Délire"
© 20200704